• Hershey shares rise 5% as chances of counter-bid recede
• Takeover Panel gives potential rivals until Monday to bid
Bidding for a company twice your size was never going to be easy. Hershey, the ubiquitous American chocolate company, has been considering a counter-bid for Cadbury ever since its rival, Kraft Foods, expressed an interest four months ago.
Now a counter-offer seems more far-fetched than ever: "100-to-one bets sometimes work at the Grand National, but not in this situation," said one investment banker.
Not only has Kraft raised its offer for Cadbury by 14% to nearly £12bn, but it has forced the British confectioner to agree to a £117m break fee, the sum it would have to pay Kraft in the event that Cadbury reneges on its commitment to recommend the revised deal to shareholders.
Hershey's shares rose nearly 5% when Wall Street opened, reflecting relief among American investors that a rival bid by the company was unlikely. Analysts said that Kraft's revamped offer put Cadbury beyond the financial reach of Hershey, which analysts said was always going to struggle to raise sufficient debt while maintaining its investment grade credit rating.
Even at this late stage, a few shareholders in London are hoping that Hershey could yet appear over the hill with a higher offer. But time is running out as the Takeover Panel has given Hershey and other potential rivals until next Monday to put up or shut up. "Hershey are going to have to work incredibly fast, and I admit it's a long shot," said one investor. "But stranger things have happened."
Another investment banker was more optimistic, saying there was still a 50/50 chance.
Cadbury had before now appeared to favour a bid from Hershey, which many consider shares more of its values and is governed by a charitable trust.
The stakes are higher for Hershey now that Kraft has improved its offer. To beat Kraft's revised terms, Hershey would have to take on so much debt that its credit rating would almost certainly be downgraded to junk status, pushing up the company's cost of borrowing and hitting the share price.
It is just possible that Hershey's financial advisers could attract wealthy investors in private equity and elsewhere to add enough capital to the bid to keep borrowings at a manageable level. But that's a big if. Hershey will probably be forced to withdraw from the contest. A heavily indebted chocolate maker might have imploded at some point in the future, bringing shame to its architects.
But for now, Hershey might console itself with the thought that there is no guarantee that Kraft will make a success of Cadbury.
Who is to say that investors won't force Kraft to demerge it in two or three years, giving Hershey the chance of a second bite of the cherry? Stranger things have happened.
Kraft's £11.9bn takeover of Cadbury prompts shareholder anger
Kraft Foods toasted a successful £11.9bn bid for Cadbury on Tuesday – but the chocolate maker's British shareholders were left with a bitter taste in their mouths as they accused the company's board of selling out on the cheap.
The four-month battle for control of Cadbury appeared to be over after the board accepted a bid worth 840p a share , sweetened by a 10p special dividend previously promised to shareholders.
The agreement looks set to mark the beginning of the end for Cadbury's 179-year independence , with bankers expecting Hershey, the US group considering its own bid, to throw in the towel. Hershey and Ferrero, the Italian confectioner that has already privately discounted a bid, have until Monday to table a competing offer.
Kraft has secured a £117.7m break fee – the equivalent to 8.5p a Cadbury share – should the UK company's board back another bidder. "The total bid works out at 858½p including the fee," said one banker. "Hershey can't compete. There are no other bidders."
Kraft sealed a deal after increasing its bid three times on Monday from the 771p-a-share offer it made in September to 830p, 840p and finally 840p plus the dividend. Irene Rosenfeld, Kraft chairman and chief executive , hailed the takeover, which will create the world's largest confectionery group with sales of nearly $60bn (£37bn), as "transformational".
The US company increased the cash component of its bid following requests from shareholders. Cadbury investors will receive 500p in cash and 0.1874 new Kraft shares.
However, despite securing a 50pc premium to Cadbury's undisturbed share price last August, some shareholders expressed disappointment that the British company's board, under chairman Roger Carr, had not held out longer.
Mark Burgess, head of active equities at Legal & General, which holds a 5.1pc stake in Cadbury, said: "We believe the final offer fails to fully reflect the long-term value of the company. We are disappointed management have recommended the offer for this iconic and unique British company."
A spokesman for L&G refused to say whether it would vote for the Kraft takeover, which needs the approval of just 50pc of shareholders, plus one vote.
Neptune Investment Management described Kraft's bid as "unappealing at best".
"This deal is ultimately bad for everyone," said Robin Geffen, Neptune's managing director. "Sadly, Cadbury's management won't fight on and too many large shareholders are focused on very short-term performance."
Others, including David Cumming, head of UK equities at Standard Life who had called for a 900p offer, suggested they were disappointed but would back the bid.
Ms Rosenfeld said it was too early to say whether Cadbury chief executive Todd Stitzer would be offered a job at an enlarged Kraft.
Cadbury shares rose 29 to close at 836½p, while Kraft was down 33 cents at $29.26 on concerns over its debt levels following a takeover.
Behind Kraft's Raise, a Glimmer of Bigger Savings
January 19, 2010, 10:54 am <!– — Updated: 3:50 pm –>
Cadbury finally agreed to sell itself to Kraft on Tuesday, after the American food giant raised its takeover offer to £11.9 billion ($19.5 billion)
Irene Rosenfeld, Kraft's chief executive, partially justified the higher price on an analyst conference call by announcing that she expected her company to reap an extra $50 million in annual cost savings through the merger. That brings the total cost-savings figure to $675 million.
But analysts on the call were concerned about how Kraft would be able to squeeze out the additional $50 million in cost savings. Kraft said it expected to reap $300 million in operational savings, $250 million in general and administrative savings and $150 million in marketing savings.
"We believe these targets are highly achievable," Ms. Rosenfeld said, adding that Kraft's past record of integrating Nabisco and United Biscuits proved that it could meet the goal.
Ms. Rosenfeld said that the $50 million came mostly from extra savings found in general and administrative expenses, which was verified by Kraft's auditor, Ernst & Young. That could mean more job cuts, including those of high-priced workers in Britain. But Ms. Rosenfeld sought to allay concerns of the British government and others, saying Kraft would eventually be a "net importer" of jobs into the country.
Kraft said that it would achieve the cost savings by the end of the third year of the deal and at a cost of $1.3 billion.
Cadbury post-mortem
Posted by Neil Hume on Jan 19 16:16.
No doubt the board of Cadbury are feeling pretty pleased with themselves right now.
After all, they have just managed to extract a higher offer from Kraft, providing an exit at a 50 per cent premium to the level it was trading at the day before the first offer in September.
(You can hear what Roger Carr thinks of the deal in this interview with the FT's consumer industries correspondent Jenny Wiggins).
But it is worth asking who the real winner is here.
Andrew D Wood, the sector's top rated analyst, is in no doubt. He reckons it's Kraft and CEO Irene Rosenfeld who have won this bruising encounter on points.
The Bernstein man says Kraft is getting an outstanding asset at a very cheap price.
(Emphasis ours).
Kraft is getting an outstanding asset

As far back as 2007 (in a report entitled "Global Confectionery: Once in a lifetime? Our assessment of who could bid for Cadbury's confectionery business"), we discussed the attractiveness of Cadbury's confectionery business…it is operating in fast-growth categories, with dominant positions, strong emerging market exposure (almost 40% of sales) and the potential for massive margin improvements up to the high-teens level.

We also argued that the spin of Cadbury's beverages business, leaving Cadbury as a pure-play confectionery company, opened the door for a possible take-out of the company, with Kraft being a likely suitor…which has clearly played out. Our views of Cadbury's business have not changed…and Kraft will benefit from all of Cadbury's strength's, plus extra synergies, now valued at $675m vs. $625m previously indicated.
The deal is a "bargain" for Kraft.

We have been somewhat perplexed by Kraft's approach to the entire bid process, including taking its original bid hostile, only to eventually come back and talk to Cadbury in the end. Nevertheless, Kraft has acquired a great asset (see above) at a great price…and should be given credit for this.

Although Kraft was forced to take up its bid, or risk the loss of this prize, in the end it is paying just 13x 2009 EBITDA (or 18x 2010 EPS). We consider that this is a bargain…the lowest multiple of any major M&A deal in the Global Food space in well over a decade, for global leadership of the confectionery category!

Looking at it another way, taking our DCF (1,047p) and adding the NPV of Kraft's synergies (we estimate 230p) gives a value to Kraft of close to 1,280p…50% above what Kraft is paying for Cadbury. Although we have long been bullish on the Cadbury business, we believe that many investors will see that Kraft has been able to acquire a jewel of a business at a very cheap price.
As for Cadbury, Wood says the company made one big mistake and that ultimately sealed its fate.
Frank Riboud, CEO of Danone, has struggled for years under the weight of possible hostile bids for his company, and has argued that the best defence is an expensive stock price! In our view, Cadbury management's major mistake has been to allow Kraft to start its bid from such a low stock price.

If Cadbury had delivered stronger operating performance between 2003-2006 instead of disappointing the market both strategically and operationally; if it had been even more aggressive with its performance in 2007-2009 (in line with the demands from Nelson Peltz in his open letter from December 2007); and if it had been more specific and less prudent with its short-term and medium term guidance (especially following the H1 2009 results), then its stock would have been much higher on 4th September.

This would probably not have deterred a bid from Kraft…but it almost certainly would have driven a higher (and more attractive) final bid for Cadbury's shareholders.
In summary then:
We believe the takeover battle is almost over. We do not expect a counter bid from Hershey or Ferrero, and we do expect that Cadbury's shareholders will approve Kraft's bid. We would add that while Cadbury shareholders have done very well out of the bid from Kraft, we still consider that Kraft has done even better.
The market, however, is still not sure.
In early trading on Wall Street, shares in Kraft were down almost 3%.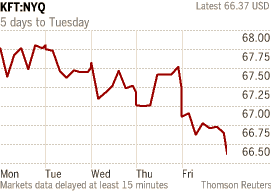 Although it is interesting to note that going back to the day the deal was announced, Kraft shares have actually outperformed the S&P 500 – just.
Update:
More good news for Kraft – it looks as if the company is going to keep its investment grade credit rating.
From Moody's on Tuesday afternoon:
Moody's Investors Service ("Moody's") said that based on the terms outlined in Kraft Foods Inc.'s ("Kraft") announcement today of a tentative acquisition agreement reached with Cadbury plc ("Cadbury"), Kraft will likely retain an investment-grade rating. Kraft's Baa2/Prime-2 long-term and short-term ratings remain under review for possible downgrade pending acceptance by Cadbury shareholders and subject to review of the final terms of the proposed deal. If a rating downgrade should occur, it likely would be limited to one notch to Baa3/Prime-3, Moody's lowest investment-grade ratings.
"Kraft's closing leverage under the terms of its latest offer would exceed the normal bounds of the investment-grade rating category; however, we anticipate that Kraft will be committed to debt reduction following the transaction and should have sufficient earnings and cash flow capacity to restore its investment-grade profile within 12-18 months," said Moody's senior analyst Brian Weddington. "Whether a downgrade to Baa3 occurs will partly depend on how quickly we think the company will delever, and whether more cushion is needed in the rating to accommodate future deals," added Weddington.
Update II:
Legal & General are distinctly unimpressed by the recommendation from the Cadbury board.
From Reuters:
LEGAL & GENERAL – INCREASED AND FINAL OFFER FOR CADBURY PLC BY KRAFT FOODS INC. FAILS TO FULLY REFLECT THE LONG TERM VALUE

LEGAL & GENERAL SAYS DISAPPOINTED CADBURY MANAGEMENT HAVE RECOMMENDED KRAFT OFFER
Related links:
Cadbury board rolls over too cheaply – Nils Pratley
Krafty – FT Alphaville
Cadbury melts away – FT Alphaville
Cadbury and Kraft agree £11.9bn deal – FT
This entry was posted by Neil Hume on Tuesday, January 19th, 2010 at 16:16 and is filed under Capital markets, M&A, People. Tagged with bernstein, Cadbury, kraft. Edit this entry.
Kraft and Cadbury
Chocs away
Kraft wins a battle for Britain's Cadbury and will become the world's biggest confectioner
Jan 19th 2010
From Economist.com
THE intervention of a government minister in Kraft's battle to buy Cadbury says much about the strength of British feeling for their favourite chocolate-maker. The American food giant's sweetened offer, too toothsome to turn down, was accepted by Cadbury's board on Tuesday January 19th. Kraft will pay £11.9 billion ($19.4 billion) for Cadbury in cash and shares, some 50% more than the firm's value before the bidding started in September. Yet last week Britain's business secretary, Lord Mandelson, warned a big group of the country's institutional investors—doubtless fixing those from Cadbury with a narrowed eye—against the dangers of short-termism.
A month earlier he had promised Kraft that the British government would scrutinise a foreign buyer to ensure that "respect" was paid to Cadbury's proud heritage. The firm has been catering to the British for 186 years. In a country that cheerfully waves in foreign buyers for its businesses the threat of "huge opposition" from the government was an unusual change of tone. Kraft too received some words of wisdom on its attempted takeover from a senior American, although the advice of Warren Buffet was of a more practical kind. His investment firm, Berkshire Hathaway, is a big shareholder in Kraft. Reckoning that Kraft's shares are undervalued he counselled the firm's bosses not to let their "animal spirits run high" and overpay for Cadbury.
Irene Rosenfeld, Kraft's chief executive, seems to have listened. Shortly before a deadline imposed by British takeover rules, Kraft upped its bid for Cadbury by boosting the cash portion significantly while reducing from 370m to 265m the number of new shares it will issue to complete the deal. Kraft's share price got a well-timed boost last week after the firm forecast that its profits for 2009 would be even better than earlier expected.
Ms Rosenfeld was quick to acknowledge on Tuesday that Kraft has "great respect for Cadbury's brands, heritage and people". Perhaps that will allay Lord Mandelson's fears. Cadbury's unions opposed the move, worried about job cuts, but the firm's board has reasoned that the price is right to bring together the two companies to create the world's biggest confectioner. Earlier the board had insisted that Cadbury was better off alone. Now Cadbury will become part of the "global powerhouse" that Ms Rosenfeld envisages.
The two businesses are strong in different markets. Kraft has little presence in Britain's confectionery market, where Cadbury is strong, but it has thriving businesses in mainland Europe, where Cadbury has made few inroads. Cadbury has a booming chewing-gum business, particularly in Europe and Latin America, an area where Kraft has little expertise. And between them they can make up lost ground in China, where Mars, the world's second-placed sweet-maker when the deal goes through, holds the upper hand. The deal is also set to yield cost savings of $675m a year.
Other potential bidders still have the chance to make a more appealing offer but it seems that Kraft's touted rivals will remain silent. America's Hershey, smaller even than Cadbury, seems unlikely to be able to muster the financial forces to upset Kraft's bid. Nestlé ruled itself out of the running by after buying Kraft's American Pizza business for $3.7 billion early this month.
Ms Rosenfeld may yet find the takeover of Cadbury a tricky process. In dealing with potential rivals, satisfying Cadbury's board and soothing Mr Buffet, Kraft's boss has proved she is a deft operator. If Lord Mandelson is harder to assuage she might try sending him a Chocolate Orange.
Chocolate, chewing gum and corner shops: why Kraft can't resist Cadbury
• Complementary products offer growth to multinational laden with mature brands
• Strong presence in convenience stores and garages could open door to US firm's lines

Kraft's Easy Mac macaroni and cheese on display in a California food store. The US company will hope to use Cadbury's distribution channels to get more of its products into small shops in Britain. Photograph: Paul Sakuma/AP
The sprawling Chicago-based food multinational Kraft will have to grasp the difference between a biscuit and a cookie, one US radio presenter remarked today, as its £11.9bn takeover of Cadbury sparked anxiety over cultural clashes and transatlantic sensitivities.
Aware of British dismay over the takeover, Kraft's chief executive, Irene Rosenfeld, chose "the best of both" as her endlessly repeated mantra of the day and insisted adamantly that Cadbury's "strong presence in the UK" would be safeguarded.
"We respect and wish to preserve Cadbury's proud heritage and traditions," said Rosenfeld in a conference call with Wall Street analysts. "Indeed, this deal is about growth."
For Kraft, the attraction of Cadbury comes down to brands, sheer scale, geography and distribution channels. The American company is stuffed full of big names such as Maxwell House coffee, Philadelphia cream cheese, Oscar Meyer frankfurters and Kraft cheese slices. But many of these have been around for years and are in unexciting market sectors.
Kraft's long-term revenue growth is just 4% and earnings growth is 7% to 9%. It predicts that adding Cadbury's chocolate, confectionery and chewing gum products will increase annual revenue growth to 5% and raise earnings growth to between 9% and 11%.
One reason is Cadbury's shrewd distribution strategy. The British firm has a good position in "instant consumption" channels such as petrol stations and ­corner shops, where people make impulse purchases and are willing to pay higher prices. Kraft has concentrated on traditional supermarkets and groceries, where margins are lower, and it sees opportunities in getting its snacks on the same shelves as Cadbury's.
Another logic for the takeover, in Kraft's eyes, is international growth. Britain's biggest confectioner has annual sales of $390m (£240m) in India, where Kraft barely exists, and of $300m (£184m) in South Africa, where Kraft can only muster $50m. Cadbury also has a useful presence in Mexico and Turkey, where Kraft is relatively weak. It hopes to take advantage of Cadbury's on-the-ground marketing and logistics to get its US snacks into these emerging markets. And in return, it can offer Cadbury new opportunities to get Creme Eggs, Dairy Milk bars and Halls cough sweets into huge emerging markets such as Brazil, India and China, where middle-class consumers are expected to have more and more spare change to spend on snacks over the next decade.
"We believe scale will be an increasing source of competitive advantage in both the confectionery category and the global food business as a whole," said Rosenfeld, who pointed out that the tie-up will allow Kraft to become the world's leading confectionery company with a market share of 14.8%, a sliver higher than its US rival Mars, which recently bought Wrigley's chewing gum to take its share to 14.6%.
But the deal will come at a cost. Ominously, Rosenfeld said Kraft had found more "overlap" as negotiations between the two companies progressed to a conclusion. Kraft is looking for cost cuts of $675m. Of this, some $300m will come from "efficiencies" through combining procurement, manufacturing, customer service, logistics, research and ­development. Kraft hopes to save $250m by eliminating duplication in general administration. And there are $125m of projected synergies in marketing – by, for example, ­making bigger bulk deals in buying advertising from media outlets.
Kraft gave no numbers on job losses and would not even comment on whether any of Cadbury's top executives would stay. Rosenfeld offered only a bland assurance that she respected the "talent" and the "people" at the British confectioner.
Warren Ackerman, a broker at Evolution Securities, said that by acquiring Cadbury, Kraft is getting one of the best consumer staples in the food industry: "It gives Kraft the growth engine they've been craving for years."
Kraft to buy Cadbury in $19.5 bln friendly deal
After months of wrangling, Kraft Foods on Tuesday lifted its offer for Cadbury to around 11.9 billion pounds ($19.5 billion) in a bid that won approval from its British target and that will create the world's biggest chocolate producer. See full story.
Cadbury-Kraft: The least friendly 'friendly' deal
The Kraft Foods-Cadbury deal must be the least friendly "friendly" deal in history. See full story.